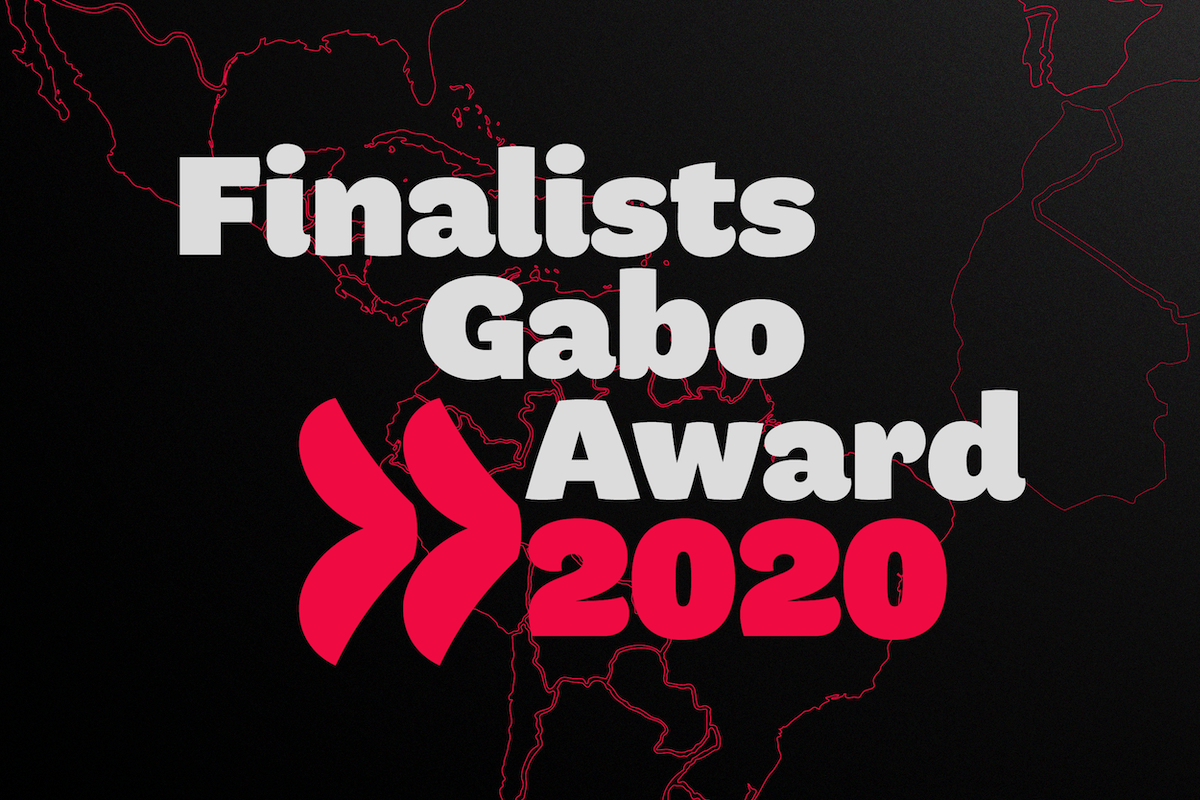 Meet the finalists for the 2020 Gabo Award
 ‌
The Gabo Foundation, founded in 1995 by journalist and Nobel Laureate in Literature Gabriel García Márquez, announces the finalists for 2020 Gabo Award— the most important recognition for journalism in Spanish and Portuguese—in its four competition categories: Text, Image, Coverage, and Innovation.
According to the 8th edition of the Gabo Award's judging panel—made up of members of the Gabo Foundation's Governing Council, media outlet directors, communications experts, and experienced journalists—the three pieces of journalism selected from each category (12 in total) are excellent examples of relevant, rigorous, ethical, and innovative journalism in Ibero-America.
These extraordinarily narrated pieces demonstrate in-depth research and reporting and go beyond traditional approaches, delving into important issues and the complex realities of Latin America.
The stories were chosen after a three-round selection process in which 58 judges evaluated 1,443 works published between April 1, 2019 and June 30, 2020.  Forty pieces—10 for each category—were nominated for the 2020 Gabo Award.
The four winners of the 2020 Gabo Award will be chosen from the group of finalists—comprised of journalists and journalistic teams from several different Latin American countries—and announced at a virtual ceremony on January 21, 2021.
The Gabo Awards is possible thanks to the Gabo Foundation's partnership with SURA and Bancolombia, with their subsidiaries in Latin America, and the Gabo Foundation's partnership with the Mayor's Office of Medellín. 
Below are all the finalists for each category of the 2020 Gabo Award, which can also be found on our website.
Text
By Jeremy McDermott.
According to the Insight Crime investigation—led by Jeremy McDermott—a man operating under the alias "Memo Fantasma" (Will the Ghost) started out in the Medellín Cartel and became one of the most prolific traffickers during the paramilitary era. Currently, he retains his wealth and lives comfortably in Spain.
Guillermo Acevedo has no criminal record or charges against him. Insight Crime was able to track down "Memo Fantasma" using sources from the criminal underworld, national and international law enforcement agents, and finally, through his companies and properties, which made it possible to reconstruct the profile of a drug trafficker who moved up to 100 tons of cocaine in his criminal career without spending a single day in prison. The investigation revealed that "Memo Fantasma" helped establish and finance one of the most powerful factions of the United Self Defense Forces of Colombia (AUC, as per its Spanish acronym), the Central Bolivar Bloc.
Furthermore, he was directly or indirectly responsible for at least 10,000 murders and represents an alternative drug trafficking style: the "invisibles," or criminals who have realized that their best defense is not a private army, but rather anonymity.
By Pedro Simón.
Pedro Simón, a journalist from the newspaper El Mundo, spent six months following the story of Hugo, a 15-month-old boy who was waiting for a heart transplant at the Hospital de La Paz (Madrid).
In three chapters, the report chronicles the long wait endured by his parents, relatives, and friends, the announcement of the transplant, the trip to collect the organ, the hours-long intervention in situ, and the child's recovery. This is the story of TEDAX agents (Spanish bomb disposal experts) and a bombshell: Hugo can live a life that can be summarized in 19 staples—"the most beautiful wound in the world."
By Algimiro Montiel, Antonio Maria Delgado, Bram Ebus, Jay Weaver, Jim Wyss, Jorge Benezra, Kyra Gurney, Nicholas Nehamas, Pamela Kalkman, Stefano Wrobleski, Gustavo Faleiros, Lisseth Boon, María Ramírez Cabello, Nancy San Martín, Casey Frank, Maaike Goslinga, Marnix de Bruyne and Rosan Smits.
This collaborative work—the result of a journalistic alliance between Correo del Caroní (Venezuela), De Correspondent (Netherlands), InfoAmazonia (Brazil), Miami Herald (United States), and Runrun.es (Venezuela)—investigates mining conflicts, gold trafficking, and illicit cash flows through data analysis and interviews with sources from state institutions, gold traffickers in the Caribbean, Venezuelan refugees who are used as gold carriers, and stakeholders involved in the trade.
This piece combines field work and an in-depth statistical analysis to identify international smuggling routes, starting in Venezuela, and to show how Colombia and the Dutch Caribbean islands are used as a springboard for the minerals to reach their final destinations: the United States, Europe, and the Middle East.
Image
 ‌By Francesc Badia i Dalmases and Pablo Albarenga
This series of multimedia reports combines video and photographic storytelling with text narration and presents powerful drone images to tell stories that bring the climate crisis up close and personal.
The project portrays the symbiotic relationship between local communities and their land in the Amazon Rainforest—an invaluable global source of fresh water and biodiversity. It also serves to amplify the communities' struggle and commitment, as well as convey their determination. 
Ednei, Dani, Drica, Joane, and Tupi in the Brazilian Tapajós, along with Julián, Verónica, and Nantu from the Achuar territory in Ecuador, make up a powerful choral voice whose journalistic portrayal, in addition to narrating a harsh reality, aims to transform the jointly constructed narrative into both personal and collective empowerment. 
The 8 episodes of "Defensores de la Selva," produced in Spanish, Portuguese, and English, were published in full in El País, El País Brasil, and openDemocracy. They were also published as seperate pieces in The Washington Post, The Guardian, and Intium Media. ‌
By Carlos Juliano Barros, Caue Angeli and Mauricio Monteiro Filho.
This original documentary by Repórter Brasil, broadcast by Globo News, focuses on work mediated by apps and digital platforms. This film combines testimonies from gig workers and analyses from renowned experts to discuss the growth of "gig economy", a phenomenon also known in Brazil as "uberization". The documentary discusses the precariousness and intensification of work in an increasingly connected society.  
By Patricia Clarembaux, Almudena Toral, Julia Gavarrete, Justine Simons, Maye Primera, Mauricio Rodríguez Pons, José Luis Osuna, Adriana Bermúdez and Jessica Weiss.
This bilingual multimedia special, which combines animation, photography, video, and text, recounts an unspoken reality in El Salvador. Nine months of research showed that Salvadoran girls and women are not only fleeing their country, but that the brutal violence to which they are subjected is also driving them to take their own lives. Government statistics partially revealed the demographics; more than half of the girls are between 10 and 24 years old, and a third are younger than 19 years of age. Furthermore, the issue is underreported, since suicide cases of girls under 10 years old are not included in the data. The violence they suffer is often caused by street gangs and frequently occurs in their own homes, where their stepfathers sexually abuse them. Moreover, it has been accepted by society and by the State, which criminalizes them if they abort their babies under any circumstances and punishes them with imprisonment.
The piece includes a photo gallery of phrases that all the interviewed women survivors wrote on a napkin telling why they had made the decision to commit suicide. The special delves into their lives to give them a voice through a visual language that uses all available resources to protect the sources.
Coverage ‌
By Javier Lafuente, José Luis Sanz, Óscar Martínez, Carlos Martínez, Carlos Dada, Mónica González Islas, Jacobo García, Roberto Valencia, Elena Reina, Héctor Guerrero, Fred Ramos, Víctor Peña, Gladys Serrano, Fernando Hernández, Guiomar del Ser and Teresa de Miguel.
This series of six reports, which combines text, photographs, videos, and interactive media, closely examines the strip of land that connects Mexico to Central America—the unknown border of the Americas, and one of the most forgotten and violent on the planet.
For six months, teams totaling more than 20 journalists from El País and El Faro worked to reveal the identities, conflicts, and questions hidden in places such as Tapachula and Tecún Umán, as well as other more inhospitable and remote places, including Xcalak, Ixcan, Bethel, and Laguna del Tigre. They narrated them in installments and in multiple formats in order to illustrate the mosaic formed by Mayan Indians, Garifuna and Miskito communities, and white Mennonite settlements across Central America, Africa, and Asia, large areas of legal and illegal crops, poverty and inequality, continually shifting political powers and armed groups, as well as countries that are falling apart along their borders.
By Thelma Gómez Durán, Jennifer González, Mónica Cerbón, Sonia Serrano Íñiguez, Andrea Menchaca, Patricia Mayorga, Aminetth Sánchez, Paris Martínez, Lucía Vergara, Adolfo Valtierra, Nancy Chávez, Mónica Contreras, Mariana Hernández, Omar Bobadilla, Daniel Gómez Hernández, Rocío Arias Puga, Emmanuelle Hernández, Vanessa Cisneros, Juan Pablo Hierro and Pablo Andrés López Chávez.
This series of reports investigates the purchase, sale, and exploitation of water through eight stories taking place in seven Mexican states. This journalistic piece reveals the use of water as if it were a private good, the flaws in the concession system in force in Mexico since 1992, and the inability of successive governments to enforce the rules, while revealing that certain individuals and companies in Mexico have concessions that allow them to use over one million cubic meters of water. This would be enough to distribute 100 liters of water to 25,000 people every day for a year.
Additionally, it uncovers how the National Water Law opens the door to the existence of a water concession market by allowing "transmission rights," a mechanism that has been used by politicians, miners, real estate developers, and several companies in order to disguise the sale and purchase of water titles.
By Dora Montero, Andrés Bermúdez Liévano, Gustavo Faleiros, Thelma Gómez Durán, Ginna Morelo, Ezequiel Fernández Bravo, Emiliano Gullo, Iván Paredes Tamayo, Nelfi Fernández, Aldem Bourscheit, César Rojas Ángel, Helena Calle, Hugo Mario Cárdenas, Ivonne Rodríguez, José Díaz, Juan Miguel Álvarez, Laura Ardila, María Paula Murcia Huertas, Ricardo Cruz, Sara Castillejo Ditta, Tatiana Pardo Ibarra, Isabela Ponce Ycaza, Jeanneth Valdivieso, José María León, Alejandra Gutiérrez Valdizán, Vienna Herrera, Patricia Mayorga, Alexa Vélez, Anthony Quispe, Milagros Salazar Herrera, Vanessa Romo, Lisseth Boon, Lorena Meléndez, Oscar Mejía, Sinar Alvarado, Jennifer Ávila, Alexander Vidal Ávalos, Pamela Rocha Hidalgo, Esteban Ponce de León, Óscar Felipe Agudelo, Juliana Mori, Ana Cristina Basantes, Lucas Gelape, Sergio Spagnolo, Renata Nitta, Ginnette Riquelme Quezada, Carlos Alberto Gómez, Fabio Nascimento, Martín Cálix, Andrés Gutiérrez Cianci, Fracisco Dumar, Hernando Sánchez, Jorge Deiby Yanes, Norbey Hernández, Alejandro López Baptista, Gloria Hernández, Jhon Romero, Juan Carlos Zapata León, Lucia Vergara, Maru Lombardo, Óscar Díaz, Paula de la Cruz, Sergio de Castro, Tania Cardona, Valentina Tuchie, Daniel Morelo, Wietse Neven, Jerrejerre SAS, Elvis Rivera, Mariana Hernández, Paula de la Cruz, Pablo Navarrete, Sania Salazar, Verdad Abierta, Camilo Amaya, Santiago López, Ángela Cardona, Daniel Suárez Pérez, Karen Batista and Carol Valencia.
This unique, collaborative, and transnational project in Latin America involves 10 countries, 21 media outlets, 31 journalists, and a team of 45 people including editors, photographers, producers, designers, and digital developers working to investigate the causes and consequences of the persecution of environmental leaders. To date, this journalistic piece includes a database with 2,367 documented attacks against environmental defenders in 10 countries over 11 years. Furthermore, it has produced 29 in-depth reports documenting specific attacks against some of these leaders and communities. The research has led to the creation of Latin America's only existing repository, which allows real figures and data on crimes and threats to be identified while also thoroughly investigating 29 stories in Argentina, Bolivia, Brazil, Colombia, Ecuador, Guatemala, Honduras, Mexico, Peru, and Venezuela.
Innovation
 ‌By Ernesto Cabral, Nelly Luna Amancio, Gianfranco Huamán, Gianfranco Rossi and Alonso Balbuena.
Funes is an algorithm that identifies the risk of corruption in public contracting in Peru. This was achieved over the course of 15 months and a multidisciplinary team of programmers, statisticians, and journalists who built databases, verified information, and developed this tool—the first in Peru and one of the first in Latin America. Through Funes, which identifies political and financial relationships, it was revealed that several different entities in Peru granted almost 20 billion dollars in contracts ranked as having a high risk of corruption. This sum is equivalent to 90 times the civil reparations that Odebrecht must pay for its acts of corruption in Peru.
 ‌By Tai Nalon, Carol Cavaleiro, Bárbara Libório, Bruno Fávero, Milena Magabeira, Luiza Barros, Thamyres Dias, João Barbosa, Marina Gama Cubas, Rômulo Collopy and Parafernália Interativa.
Radar Aos Fatos is an intelligence center that monitors disinformation on the coronavirus pandemic in Brazil, in real time. The team, made up of journalists, linguists, and data scientists specialized in disinformation, monitor more than 90,000 publications on social networks per week and apply an algorithm to classify each one according to their quality of information. To collect the content, the Aos Fatos team created a Python script and a data set with more than 400 websites, 7,000 Twitter accounts of politicians and government officials, more than 600 public Facebook pages, and more than 650 YouTube pages and public WhatsApp groups. Radar Aos Fatos has produced 10 analyses from March 2020 to date. One of the most influential analyses monitored more than 1,500 tweets published by parliamentarians and revealed that the federal deputy and former Minister of Citizenship, Osmar Terra (MDB), shared the most disinformation about the coronavirus, followed by Jair Bolsonaro's allies, deputies Eduardo Bolsonaro (PSL) and Bia Kicis (PSL).
 ‌By Lorenzo Morales Regueros, Juan Camilo González, Sara Cely, Tomás Mantilla and David Angulo.
On March 21, 2020, hundreds of prisoners at La Modelo prison in Bogotá, Colombia, rioted, demanding measures be taken to respond to COVID-19. The riot resulted in 24 deaths, with hundreds injured—including 11 guards—as well as destroyed and burned facilities, including a plume of smoke that, despite the darkness of the night, could be seen from a distance. The night's events were first reported on Twitter, then in the press. Finally, the government declared that it was "a massive and criminal attempt to escape." This investigation is a multimedia reconstruction of events that strives to clarify what happened inside the prison using open-source videos—more than a hundred records—and classic reporting work that gathers testimonies and context. The piece reveals that most of the inmates were injured by firearms, specifically rifle projectiles and pistols.
About the Gabo Awards and the Gabo Festival 
They are convened by the Gabo Foundation, which, inspired by the ideas and work of Gabriel García Márquez, seeks to promote spaces for reflection and debate, and exalt ethical, rigorous, innovative, and public service journalism. 
The Gabo Awards and the Gabo Festival are possible thanks to the Gabo Foundation's partnership with SURA and Bancolombia, with their subsidiaries in Latin America, and the Gabo Foundation's partnership with the Mayor's Office of Medellín. To keep up with news about these initiatives, follow us on these social networks: Facebook, Instagram and Twitter.
If you would like to relive the public talks from the 8th edition of the Gabo Festival, which was held virtually last December, please visit our YouTube channel.