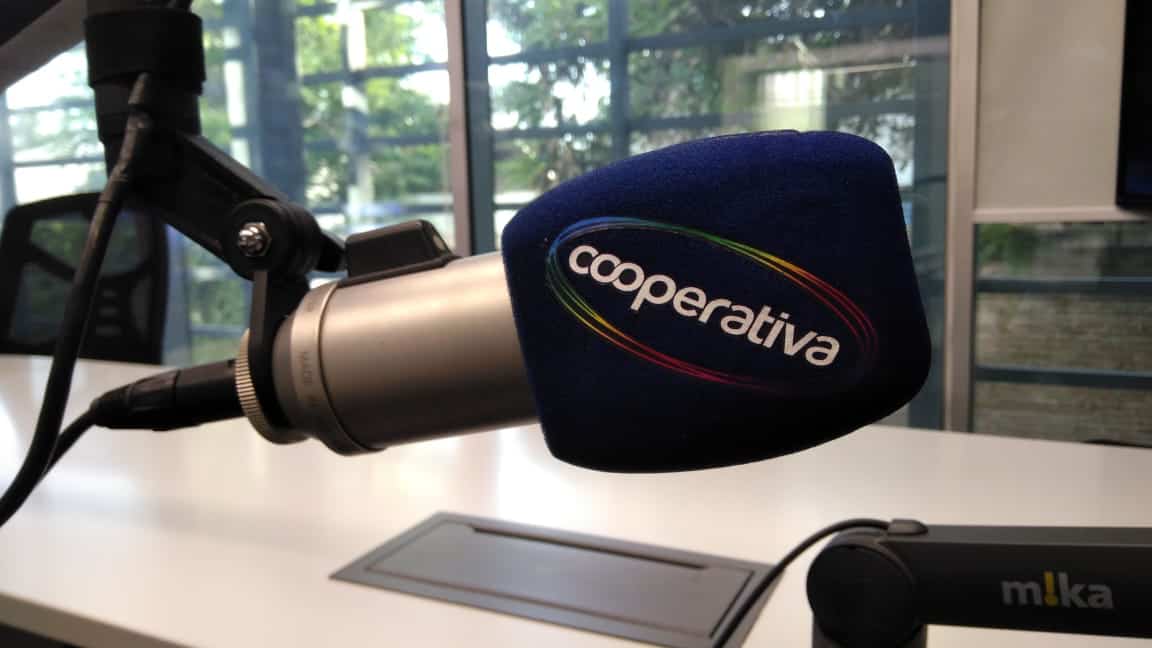 Minutes of the Gabo Awards 2020, Award of Excellence, granted to Chile's Radio Cooperativa team of journalists
The Governing Council of the Gabo Foundation, created by Gabriel García Márquez, is made up of Carlos Fernando Chamorro (Nicaragua), Germán Rey (Colombia),  Héctor Feliciano (Puerto Rico), Jon Lee Anderson (United States), Leila Guerriero (Argentina), María Teresa Ronderos (Colombia), Martín Caparrós (Argentina), Mónica González (Chile), Natalia Viana (Brazil), Rosental Alves (Brazil), Sergio Ramírez (Nicaragua), meeting virtually on September 26 and October 10, 2020 under the presidency of Jean-François Fogel (France), has resolved to grant the Gabo Award of Excellence, in the Gabo Festival's eighth edition, to the team of journalists at Chile's Radio Cooperativa.
The group of reporters, presenters, and editors at this Chilean private national network receives this award for high quality journalistic work this team has produced and which has made a significant contribution to the history of Chilean democracy, for its capacity to offer, day after day, information and analysis in a way that is truthful, timely, pertinent, dedicated to facts, far from sensationalism, and showing a clear spirit of public service. Its anchor is the news program El Diario de Cooperativa, which, for over four decades and through the various crises the country has experienced, has earned its audience's trust, transitioning from journalistic resistance with the voice of truth in times of dictatorship to the basic but indispensable rigor of information, balanced and impartial, since the recovery of democracy in 1990. Their voices and stories are part of Chileans' daily life, which speaks to the relevance of journalism that this team of professional journalists has exercised with intelligence and strength, by focusing on reporting and investigating the facts and offering reliable daily information, in a measured tone, despite the pressures and crises. We find great value in this type of journalism, at a time of increasing awareness of the risks created by the advance of organized misinformation in the midst of the hubbub of digital networks and platforms, and the political polarization of societies.
This is the first time that the award of excellence instituted in memory of our founder, Gabriel García Márquez, has recognized radio journalism. It is no coincidence that this is happening when we are going through a serious health, social, and economic crisis caused by the global Covid-19 pandemic, with the echoes of protests and political turbulence still reverberating in many Latin American countries. In these times of great challenges, radio stations in Latin American countries have bolstered their efforts and stood out for their vibrant, up-to-date service to their audiences, while many of their journalists take risks by going out on the streets in search of information for citizens.
This is the second time that the Gabo Award for journalistic excellence is awarded to a team and not an individual. On behalf of the journalists of Radio Cooperativa, the 2020 award will be granted to the 36 journalists who currently make up the Press Department, who have distinguished themselves at this historic moment for their credible, judicious, and consistent coverage since October 2019, when the social outburst began in Chile, which, a year later led to the unprecedented convening of a Constitutional Convention, and assuming in parallel since March 2020, impeccable coverage of the events and effects of the severe crisis caused by the Coronavirus pandemic.
This award that the members of the Press Department will receive also envelops a process to which other areas and different generations of Radio Cooperativa have contributed, and that, since the 70s, has shown with vigor how it is possible to do radio journalism that, based on a strict respect for the facts, becomes an effective tool to save lives and defend freedom. We therefore reward a group of journalists who have managed to be consistent with this ethical tradition of public service information in the framework of a commercial radio network that is substantially financed by advertising, decisively contributing to forging its image as a pluralistic news radio of great national and regional importance, which has accompanied and become increasingly rooted in the history of Chile. Perhaps that is why, in the midst of the pandemic, it was easy for them to, once again, assume the task of making reliable journalism that aimed to protect the health and life of Chileans.
Another fact that should be highlighted and recognized is the central role women have had in Radio Cooperativa's team of journalists. El Diario de Cooperativa, the newscast that is broadcasted today at three different times hosted by Sergio Campos, had journalist Delia Vergara Larraín as its first director. "The price we had to pay was knowing that we were in danger, feeling constantly watched and doing our job by always pushing the limits. We grew accustomed to living in danger. It was an arduous and constant struggle for survival," she said a few years ago. In addition to Delia, great journalists such as Manola Robles and Patricia Politzer gave way to new generations in which Veronica Franco, Paula Molina, Paula Bravo, and many other, younger journalists stand out. For all of them, the story of survival and mysticism of the journalistic project is not just a memory. They know that the wonderful radio studios—where artists like Louis Armstrong, Nat King Cole, and Pedro Vargas performed—had to be sold in 1977, when the dictatorial regime wanted to suffocate them and shut them up forever. But it was not possible. During those very difficult times, all the journalists accepted a dangerous and austere path: they survived closures (some very long ones), auditors who reviewed notes before they were issued, and they mocked censorship with courage and ingenuity. It was then that the phrase that still brands the station was coined: "You have the right to know the truth, and the truth is in the facts."
This work was highlighted on a historic date for Chile by the American newspaper The New York Times. On the date of the plebiscite on October 5, 1988, which put an end to the dictatorship, the newspaper dedicated a long article to cover the story —"The Journalists of the Cooperativa: the Guard Dogs at Pinochet's Heels"— describing how the press team managed to put together its own vote count with reporters, correspondents, and students.
Finally, with this award, the Gabo Foundation also seeks to highlight the role that small and large Spanish, Portuguese, and native language radio stations have played this year, from indigenous and mining stations, to community, youth, and university stations, to public and commercial ones. A year of service that is part of a history of nearly one hundred years of contributions to society. It is very promising to see how they have been digitized, promoting an innovation that directly affects the quality of information delivered to audiences. The narratives of podcasts, the diversification of citizen participation, journalistic coverage in real time, the proximity to convergence, and transmedia languages have crossed borders to promote even small stations that are growing intelligently and courageously in the most dissimilar places in Latin American countries.
The journalists who are part of the Press Department of Radio Cooperativa are: Oscar Kosucht Pastén Ramírez, director of press and programs; Eugenio Rodrigo Sierralta Bravo, general press editor; Verónica Irene Franco Montecinos, general sub-editor and host; Sergio Alfredo Campos Ulloa, program host; Rodrigo Vergara Muñóz, daily editor and host; Rafael Alejandro Pardo Velásquez, press editor; Paula Bravo Concha, journalist and host; Paula Mariela Molina Tapia,  general editor of Area Podcast in Radio Cooperativa; Claudia Kelly Fuentes, journalistic production coordinator; journalists Jorge Fernando Espinoza Cuellar, Álvaro Lozano Pérez, Paola Elizabeth Aguillon Espinoza, María Paz López Carreño, Patricio Andrés Chacur Cantin, Gonzalo Alonso Aguirre Alarcón, María José Pizarro Cofre, Felipe Andrés Gallegos Vega, Jeans Claude Penjean Díaz, Kassandra Widemann Gutiérrez, Valentina Paz Godoy Borquez, Francisca Andrea Canseco Cruz, Priscilla Alejandra Baeza Garcés, María Soledad Cortés Salinas, Francisco Sebastián Becerra Pizarro, Luis Felipe Cofre Muñóz and Mariano Ignacio Reyes Caceres; media correspondents Carola Andrea Chávez Barahona, Claudio Patricio Arévalo Villalobos, Jaime Rodrigo Morales Amaya, Dayanne Carolina Marquez Calle and Jose Luis Pérez Flores; Gonzalo Ignacio Araya Santana, multimedia regions editor; media correspondents Cristofer Jesús Espinoza Quiroz, Jessica Daniela Esquivel Ponce and Nicolás Ignacio Urzua Bravo; Mauricio Jorge Bustamante Postel, driver.