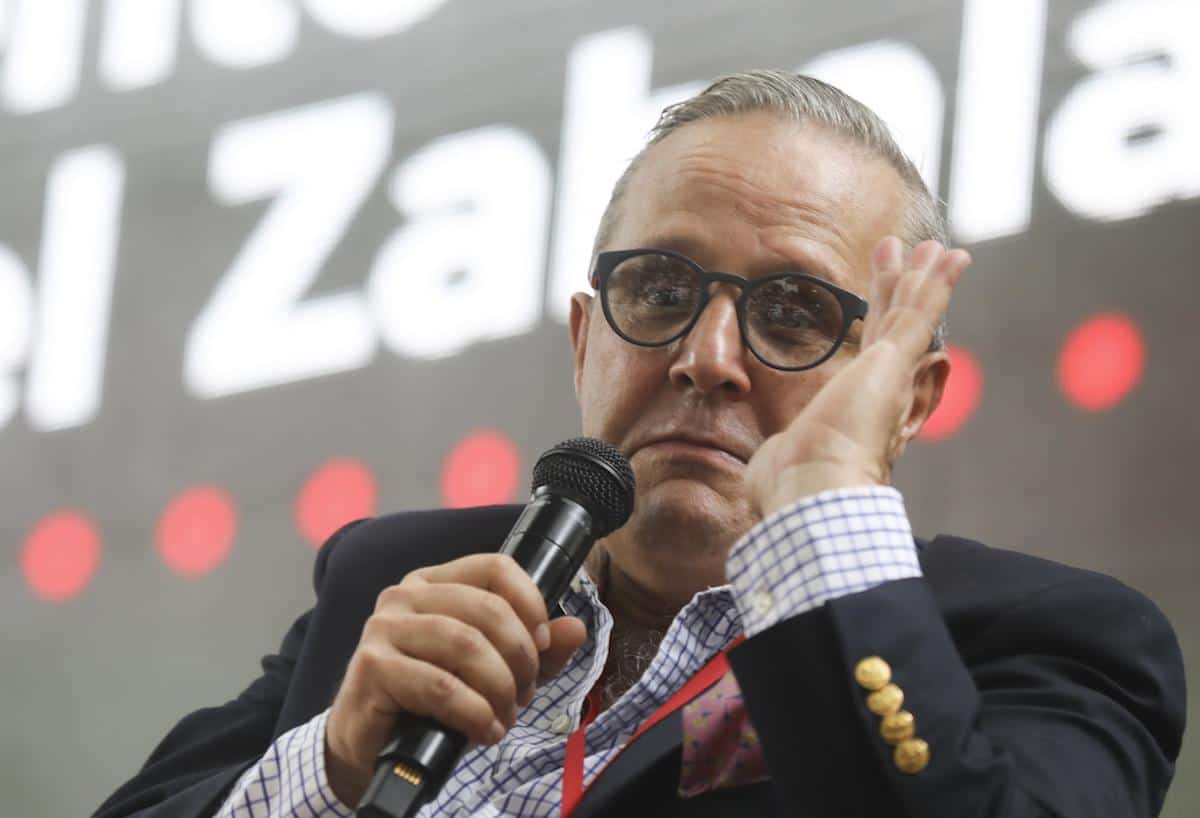 Diego Martínez Lloreda speech Gabriel García Márquez Award
Foto: Joaquín Sarmiento/FNPI.
It is a night to give thanks.
And I will begin by thanking Susana, my all-hours companion, for the love, understanding, wisdom, and patience that she has had over the more than three decades we have spent together. She has kept me grounded; she has been the beacon that has always guides me back home. She also gave me the greatest prize I could hope for in this life: Laura and Juan Diego, our two wonderful children that I am so proud of, because they are much improved versions of us.
Second, I'd like to thank María Elvira Domínguez, director and general manager of El País, for the blank check she handed to me to do my work at the newspaper. I thank her for her affection, her common sense, and for the infinite tolerance with which she has handled my limitless stubbornness.
All my gratitude to Rigoberto Prieto, my Spanish teacher at the Modern Gymnasium, for having gotten me to read—when I was just in my second year of high school—that little gem called The Story of a Shipwrecked Sailor.
Thank you, Gabriel García Márquez, for having written that book that would mark my destiny. Like most of the things that one does out of obligation, especially as a teenager, I picked the book up with apprehension. And I began to read it with disdain. But from the first pages, that interview worked the miracle of capturing the attention of the wayward adolescent that I was. The story of Luis Alejandro Velasco, the sailor who was adrift for ten days after falling from the ARC Caldas caught my attention. The book, a compilation of interviews that were published in El Espectador, uncovered an embarrassing plot to smuggle contraband in which several members of the Colombian Navy were involved. But it is also a vibrant story that has the power to focus the attention, even the scattered mind of a child in the process of becoming a man.
Thank you, Master Gabo, because when I finished page 176 of that book, I concluded that I wanted to dedicate my life to writing interviews like that. Forty-two years after having finished that reading, I still have not managed to produce anything comparable, but I keep trying.
Thank you, Gabo, for having taught me the strategic importance of good titling, which I have tried to transmit to my disciples in the years in which I have worked as an editor. Thank you for helping me to see that a title is a hook for catching readers, a door that gives way to the never-predictable world of texts. The prolific work of García Márquez would have met another, very different fate if instead of writing No One Writes to the Colonel, he had written The Colonel Isn't Getting His Pension; if instead of One Hundred Years of Solitude, he had titled that portentous book The Saga of the Buendía Family; or if the Chronicle of Death Foretold had been called The Disappointment of Bayardo San Román; or if, finally, Memories of My Melancholy Whores had been called Evocations of My Depressed Sex Workers.
Thank you, Master Gabo, for teaching me about the precision of words, for having made me understand that in Spanish each event corresponds precisely to one word and no other.
But throughout my already extensive journalistic experience I have had other teachers. I want to thank them as well today. First of all, I want to thank my father, Rodolfo Martínez, for instilling in me, from a very young age, that success is 1% talent and 99% effort. And my mother, for having always believed in me. I do not exaggerate when I say that in many moments of my adolescence it required a great deal of faith to believe in me.
Rodrigo Lloreda, who gave me the privilege of being his assistant in his last period as director of El País. I learned many things from him. Today I want to thank you for two simple and useful teachings: first, do not fight with everyone at the same time. In my early days as a columnist, I acquired a fresh enemy with each essay. The result was that after a while I had a multitude of people eager to contradict me and did not know how to manage so many enmities, which prevented me from focusing on and developing the whatever the most pressing issue was.
The second great lesson from Lloreda was to never write anything while I was hot. When I brought him some writing and he saw the passion and the feeling with which it had been written, he would ask me to let it steep it for a few hours, after which I could appreciate the defects that the fever hadn't let me see before.
Gerardo Bedoya, the unforgettable opinion editor murdered by the Cali Cartel. I thank him for the dozens of times he returned a column, with the conviction that there was always a phrase to polish or a piece of information that would round it out. From Gerardo, from his caustic intelligence, I am left, among many other things, with an unforgettable reflection that I cannot help but share tonight: "Diego, do you know what the difference is between a good lawyer and a good journalist? Well, a good journalist says more things with fewer words, while a good lawyer says fewer things with more words."
And I thank Luis Cañón for teaching me how to handle the big newsbreaks that arise when least expected. I thank you for having conveyed to me the importance of having the serenity to stop and meet with the entire editorial team, listen to ideas, refine proposals, and plan processes in those critical moments.
From these men I learned to be skeptical, to distrust everything and everyone, especially the powerful. I also learned that truth is found in the most unsuspected places. And that we who exercise this trade are beholden, first and foremost, to the community that relies upon us to grasp the world and be informed. Thanks you for those teachings.
Thanks, finally, to the Gabriel García Márquez New Journalism Foundation, and to the jury of the Clemente Manuel Zabala award for granting me the prize that goes to an Exemplary Editor. There can be no greater honor for someone who has dedicated his entire life to the exercise of journalism.
I interpret the adjective "exemplary" in the sense that we editors teach by example. The 34 years that I have been immersed in the battle of journalism have taught me that for the perennially skeptical and critical reporters to respect their editorial leader, he must be a "trench general"—the editor has to be involved with them in that field of journalistic battle. Planning, directing, correcting, firing, being on the front line of the battle front, with skin in the game. It is in those moments, in the harshest journalistic battles, when the editor teaches and learns the most. Only then can an editor earn the respect of his writing staff.
In the daily bustle of newsrooms, journalism is a matter of constant learning. Every day, each of us learns. The young reporters learn from the veterans, observing how they work, accompanying them in the process of information gathering. And it just so happens that among the writing staff of El País, I'm not the most exemplary, I'm just the oldest. I'm just the one that has fought the most battles, the one that has the most scars.
Tonight, when I receive the greatest honor of my career, I cannot help but refer to a phrase that Rodrigo Lloreda bequeathed as a legacy to those of us whose job it was to succeed him in the trenches of the newspaper at which he was, without a doubt, a great marshal: El País. More than a company, it's a mission. And if I have understood something after so many years of leading journalistic teams, it is precisely that being a publisher is not a job, it is a mission.
Thank you.